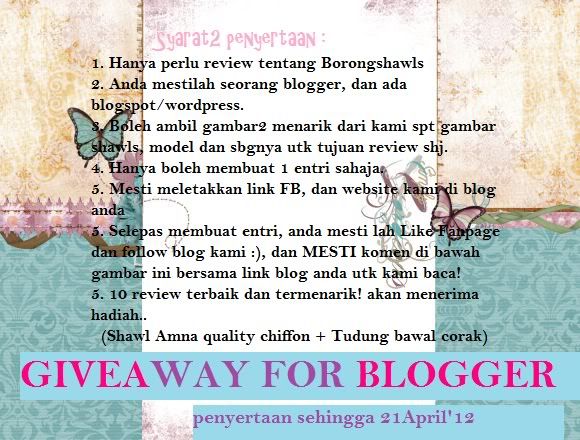 **This is contest for all blogger, wanna join it? Just click at picture above :D tQ !

Holla , gorgeous !
First entry adah kali ni about

"Borongshawls"

!
Wanna know more details about "Borongshawls"?
Let's read until the end .
Actually , adah mmg suke sangat online shopping .
And mostly akan shopping tudung .
Dekat borong shawl ni adah nak review korang beberapa jenis shawl yg adah minat

GILER

!
And rasa nye korang pun akan minat sama :D
Okey , let's we start with RANAA LV !
Haa , ni laa Tudung Bawal yg bercorak Ranaa LV :)
Chantek tak ?
Tahu tak kenapa adah suke sgt jenis nie ?
Sebab ade leapord printed kat tudung tuh :D
...
Okey next we move to

RANAA BUNGA SCARF

!
I'm speechless ! :O
Warna and design utk tudung nie , memang menarik sangat2 !
As long as all of you know , teenage skrg kan suke pakai
kaler yg contra . So ini laa antara jenis tudung yg ssuai .
Cantik tak ? :D
Last but not least , we look at
RANAA DEE SCARF
!
Hey , dear ! Tahu tak kenapa adah suka yg nie pulak ?
hehe , sebabbbbbbbbbbb , kat tudung ni ade
Adah minat printed leapord , pokadot and bunga-2 :D
Ouhhh , yeayyyyy ! adah dah habis review sedikit about
"Borongshawls"
!
Haa ? Tak puas lagi ? hehe
Okey , dunt woryy , be happy .
Adah akan tinggalkan
LINK
untuk korang terus ke blog and fanpage
Borongshawls :D
Suke takk ? hehe .
To all bloggers , Selamat membeli belahhhhh ^___^
---

A Loving Heart is The Beginning of All Knowledge

---